'Over the tea cup' - design for a postcard - Harrison Fisher 1910
Afternoon Tea - Wm. H. Margetson
The cup of tea on arrival at a country house is a thing which, as a rule, I particularly enjoy. I like the crackling logs, the shaded lights, the scent of buttered toast, the general atmosphere of leisured coziness. ~ P.G.Wodehouse
Setting off on a stormy, wet day, we went to visit our friend, who had moved away from the village.
We three ladies had been invited to afternoon tea at her new home.
Arriving bearing gifts like the biblical 'Three Kings' we were welcomed in, to a roaring log fire.
Plates of delicious-looking sandwiches were arranged on the coffee table and the best bone china tea service had been brought out especially.
We spent time catching up on news and what had happened since we last met; had a tour of the house; then went into the dining room where the table had been set with a lace edged linen table cloth and matching napkins, sparkling cut glass bowls filled with home-made jams; three types of scone - cheese, plain and fruit; Florentines and biscuits; all made by our friend that morning.
It was a delightful and civilised way to spend a wet Saturday afternoon - full of chatter and laughter and delicious food.
It was good to see her again.
We spent an enjoyable few hours.
Then it was time to leave.
We left the warmth of the room and ventured back into the dark, stormy night; each bearing a parting gift of a Cyclamen plant - all saying that we must meet up again ... soon.
It felt wrong and intrusive to take my camera with me - I wanted to enjoy the afternoon without worrying about photos for a blog post so I have used some vintage pictures to illustrate the feeling of the afternoon.
Here are some random pictures of things that have caught my eye during the week.
The light levels have been so low that I haven't been able to take many decent pictures outdoors - the atrocious weather has a lot to answer for.



And so another week comes to an end; bringing us one week nearer to Christmas.
My one concession to it so far has been buying a festive jug to fill with holly and evergreens, and a matching plate, that I thought would look good when passing round the mince pies.
Both bought in a charity shop for £1.00 each.
The week has been uneventful except for a power outage during a storm.
I fumbled round in the dark looking for my stash of candles.
How did people in the old days manage without electricity.
The light wasn't good enough to read by; it was too early to go to bed; I couldn't even boil a kettle for a cup of tea.
Luckily, it only lasted about twenty minutes.
Oh, and I had my hair cut - I have to say that the lighting in my hairdressers is awful; it drained the colour from my face and made me look about ninety years old.
I didn't recognise the old person staring back at me from the mirror - when did that happen - getting old I mean - it didn't seem so long ago that I was a fit and sprightly forty year old.
Best not think about it - far too depressing.
Enjoying watching 'The Last Kingdom' on television and feasting my eyes on Alexander Dreymon who plays Uhtred the Dane
here
- I do love a bit of Viking skulduggery.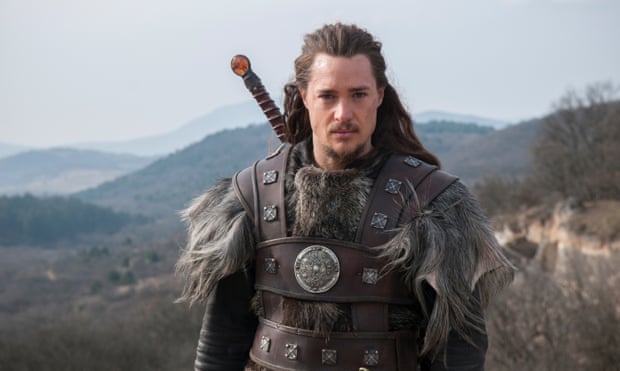 Well, that's about it for this week.
Take care.
And I'll leave you with this passage from Wind in the Willows
"The rapid nightfall of mid-December had quite beset the little village as they approached it on soft feet over a first thin fall of powdery snow. Little was visible but squares of a dusky orange-red on either side of the street, where the firelight or lamplight of each cottage overflowed through the casements into the dark world without. Most of the low latticed windows were innocent of blinds, and to the lookers-in from outside, the inmates, gathered round the tea-table, absorbed in handiwork, or talking with laughter and gesture, had each that happy grace which is the last thing the skilled actor shall capture--the natural grace which goes with perfect unconsciousness of observation. Moving at will from one theatre to another, the two spectators, so far from home themselves, had something of wistfulness
in their eyes as they watched a cat being stroked, a sleepy child picked up and huddled off to bed, or a tired man stretch and knock out his pipe on the end of a smouldering log."
―
Kenneth Grahame
,
The Wind in the Willows